Can People With Epilepsy Drive? Know the Rules on Epilepsy and Driving
April 16, 2023
Reading Time: 5 Minutes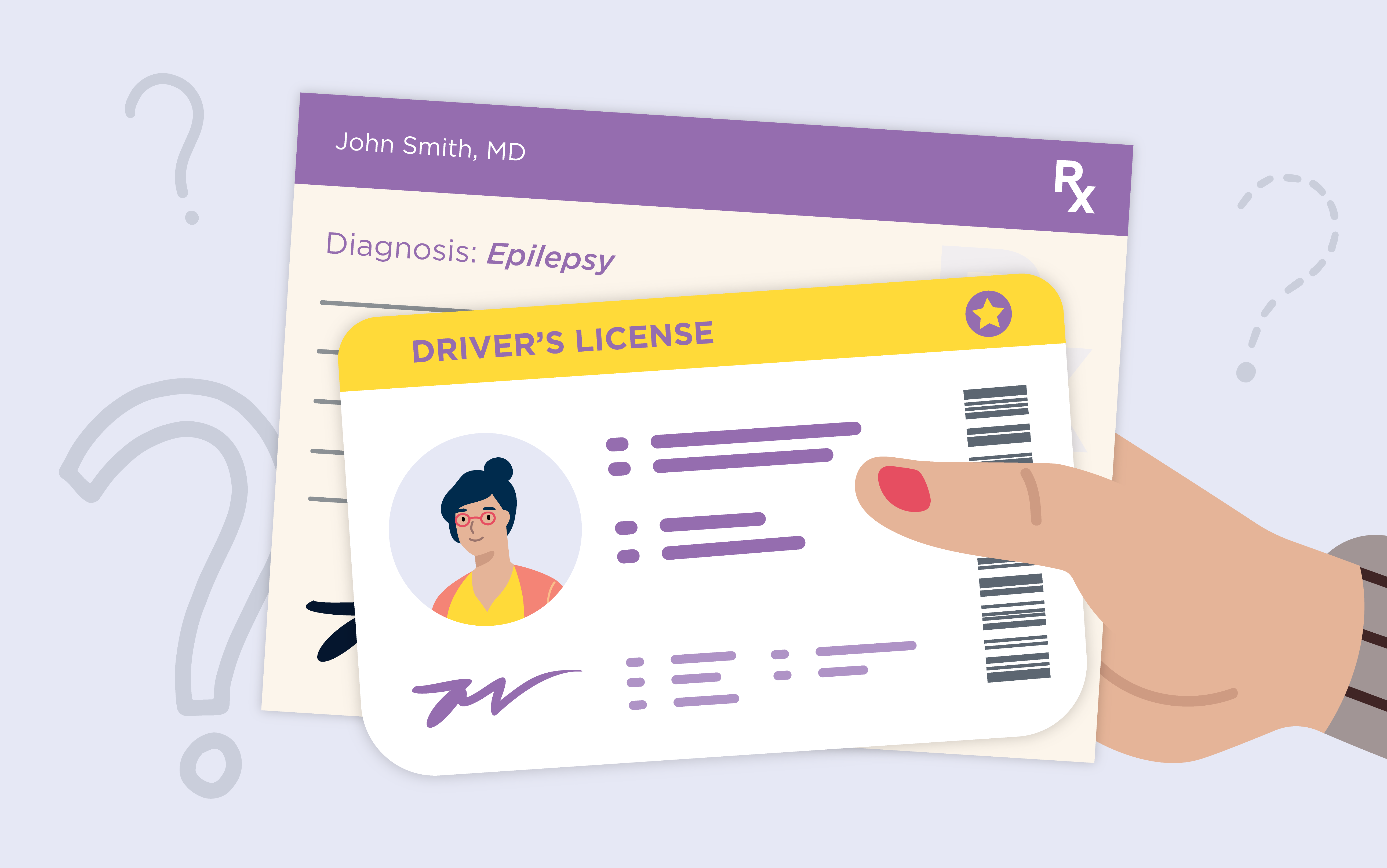 Key Takeaways
Seizures have the potential to interfere with your driving, putting yourself and others at risk.
Rules and regulations about epilepsy and driving or obtaining a driver's license when you experience seizures vary by state. To apply for a license, or restore a suspended or revoked license, you often need to live seizure-free for a certain period of time.
You can work with your doctor to review state regulations and ensure your safety. You can also work with epilepsy support groups and other nonprofits to find alternative transportation.
Driver's license and epilepsy: what it means when you can't get behind the wheel
Driving often presents a challenge when it comes to seizures. The state where you live and work may not allow you to keep your license, or even apply for one in the first place.
These restrictions can be a blow to your identity and independence. They can also pose a barrier to getting to school and work, not to mention running errands, seeing friends and doing the things you love. On the one hand, it's important to keep yourself and others safe. On the other, everyone, including people with epilepsy, wants to live as normal a life as possible.
In Tennessee, Kim started experiencing seizures in early childhood and wasn't allowed to apply for a driver's license as a teenager. In North Carolina, an increase in uncontrolled epileptic seizures during college led to Heather having her license suspended. And when Carolyn developed tonic-clonic seizures at 35, she could no longer keep her license. She lost her job and the ability to drive her child around.
"I was someone who lived a normal life until then, when it was taken all away," Carolyn says. "It was so hard to not be able to go anywhere and to rely on everybody."
Despite the hurdles, obtaining, keeping or restoring a license if you have epilepsy is often possible. Getting behind the wheel may not be easy — requirements vary across state motor vehicle departments — but many people achieve it.
Laws of the land: how states approach seizures and driving
Because they can leave you feeling disoriented and confused or even cause you to lose consciousness, seizures are a risk to road safety.
Still, the level of risk seizures pose to road safety isn't always clear. The impact of seizures on driving is further complicated by the patchwork of laws that change from state to state. (See driver information for each state, collected by the Epilepsy Foundation.)
Most driver's license applications ask general medical questions, with a follow-up request: "Do any existing health conditions potentially make your driving unsafe? If yes, please explain." In some cases, you may be asked to provide a doctor's note. You may also be told to report any medical conditions that arise once you receive your license.
Seizures are certainly one of the health issues states have in mind. Failure to disclose them can have dire consequences, especially after a car crash that involves physical damage or personal injuries. Drivers may open themselves to financial and criminal liability, and insurance companies may deny coverage of claims.
Some states require doctors to report patients who have medical issues that pose driving hazards. Other states allow doctors to make voluntary reports, without being penalized for breaching patient confidentiality.
Decisions whether to deny an application, or to suspend or revoke an active license, often come from licensing boards. Some states may allow these decisions to be appealed (reconsidered).
Even if you have seizures, you may be allowed to drive if they:
Only happen while you're asleep
Are tied to identifiable and avoidable seizure triggers
Come with a prolonged aura, giving you time to safely pull over
Are due to a temporary illness or other one-time cause
Occurred because of a change in medication, with a doctor's expectation that they will not repeat
Are diagnosed as focal seizures that don't interfere with consciousness or movement control
If authorities deny or take away your driver's license, you often need to show you can live seizure-free for a designated period to reclaim it. Some states require three months, others one year. Once you've satisfied this requirement and received a license, you may still need to provide medical records on a regular basis showing that seizures have not returned.
Controlling seizures to gain your license and drive safely
Obstacles to driving force many people who have epilepsy to look for other ways to get around. Of course, family and friends often step in, but you may feel you're imposing — even if the other person doesn't feel that way.
While they're not necessarily ideal, other options do exist. Public transportation (where available) can help. You can also try taxis or ride share companies, if your budget allows. Local chapters of the Epilepsy Foundation may know of free or low-cost services.
Being unable to drive can make it difficult to get to the medical appointments needed to help control seizures. Some state Medicaid programs offer transportation vouchers for medical emergencies. If you qualify for Medicaid, contact the state office to find out what is available and how to use the vouchers. Churches or nonprofits in your area may offer help, too.
In the meantime, you can work with your doctor to try to meet state requirements and ensure your safety — and the safety of others. Even if you've met the seizure-free window, there may be other factors to consider before getting behind the wheel:
You and your doctor may plan to reduce or stop certain medications, which could pose a driving risk.
Epilepsy treatments may cause side effects, such as fatigue, cognitive impairment or changes in vision.
Past history may show that you can meet the seizure-free requirement only some of the time, and not consistently.
You can also seek better ways to control seizures, especially when seizure medications don't work. A comprehensive epilepsy diagnosis can help with drug-resistant epilepsy. So can working with an epileptologist, a neurologist with extra training in the diagnosis and treatment of epilepsy.
Kim, Heather and Carolyn each received the RNS System, a type of neurostimulation device and one option for drug-resistant epilepsy. While individual experiences with epilepsy and responses to treatment vary, the RNS System was effective for all three women. Approximately 1 in 5 patients are seizure-free at their last check-up.1
In addition to greatly reducing Carolyn's seizure frequency, the RNS System recorded unusual activity in her brain. When her doctor reviewed the data, it showed her seizures occurred only when she was asleep. Armed with that information, her doctor wrote a letter to the DMV that allowed her to regain her license for the first time in 15 years.
With the RNS System, both Heather and Kim experienced only auras instead of seizures.
Heather's doctor used her RNS data to determine she was eligible to apply for her license reinstatement. Following the North Carolina process, her doctor notified DMV. A packet was sent to her doctor, who worked with Heather to complete the forms and submitted them to the DMV. A few weeks later Heather received her license reinstatement letter, giving her the freedom to go to the gym or take her son to the mall.
Kim's doctor used her RNS data to determine she was eligible to apply for her learner's permit in Tennessee. Because she's never driven before, Kim is currently saving money to attend driving school, and hopes to obtain her driver's license soon.
"They're things that people once told me that I never would be able to do," she says. "I always wanted to prove them wrong."
Sources
Razavi, et al. Epilepsia. 2020.
*Every person's seizures are different and individual results will vary
Was this article helpful?